Available Now!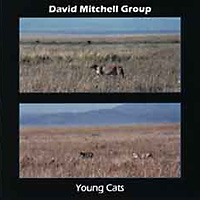 "An Impressive Debut..."
Tom Surowicz, Music Writer
- Mpls Star Tribune
A New Recording by the
David Mitchell Group

Featuring latin, swing, and contemporary jazz.
All Sound samples require Real Player

The David Mitchell Group is a jazz quartet based in the Twin Cities of Minneapolis/St. Paul, Minnesota.
The group consists of David Mitchell on saxophone, Chris Lomheim on piano, Tom Lewis on bass and Phil Hey on drums.
Each of the band members has been playing jazz for over 25 years. They have appeared individually with many of the top jazz musicians in the world, and are featured on over 50 CDs.

The group's latest recording, called "Young Cats", reflects the bands' repertoire, including Latin jazz, standards, contemporary jazz, and originals. Joining the quartet on the Young Cats CD is Dave Singley on guitar. The group plays a variety of well-known and original jazz tunes, with a focus on Latin and be-bop. The recording is an extension of the group's school performance and education work of the past two years.
During this time, the group has done over 200 performances during the school day, at nearly 50 different high schools in the Twin Cities. Over 10,000 students have attended these performances. The series is funded by a grant at no cost to the schools.
This site is in the early stages of development. Check back soon for more comprehensive information.
For questions about bookings or clinics, please email us. Email: david.mitchell@comcast.net